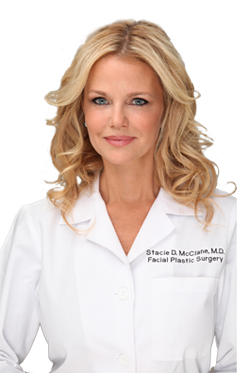 Face Lift | Skin Care
by Stacie McClane, MD.
A uniquely luxurious and highly effective skin care line by Dr. McClane. FACE LIFT | SKIN CARE combines the art and science of skin care and leaves your skin looking and feeling beautiful.
Call 312.867.9500 to purchase your products or discuss your skin care needs.
O2 Restoring Crème - $48
O2 Restoring Creme is a DNA infused luxuriously rich hydrating creme that contains hydrolyzed RNA/DNA, CoQ10, Hyaluronic Acid, and natural source anti-oxidants that encourage moisture retention and elasticity. Ideally suited to those who experience dehydration or lack of vibrancy caused by aging, environmental factors or dry skin. Revitalizing botanicals and a rich emollient base visibly improve moisture levels making this creme excellent for day or nighttime use.
Dr. McClane: "I just love this face cream. It feels luxurious and decadent and, more importantly, it is packed with anti-aging components."
Eye Restoration Complex with Argiriline - $42
This superior moisturizing eye treatment therapy, with youth restoring DMAE, Argiriline and Alpha Lipoic Acid diminishes the appearance and severity of deep wrinkles and fine lines typically found within the eye area. Vitamins C & E and nourishing botanicals are enhanced with potent ferulic acid provide excellent hydration due to its intensive moisture retaining qualities.
Dr. McClane: "Patients are always asking for a wonderful eye cream. The eyelid skin is the thinnest skin in the body. So, it is also easily irritated. This product feels luxurious and is gentle enough to use daily. It's more than an eye cream. It's an eye treatment."
Retinol 50 Recovery Crème - $45
This silky lightweight crème offers hydration and skin revitalizing benefits that protect skin from environmental aggression and premature aging. Cell strengthening DMAE skillfully firms and tightens skin. Retinol and retinyl palmitate aid in cellular regeneration by softening and removing dull looking skin. Soothing silicone boosted with vitamins and minerals help retain lipids close to the surface of the skin leaving a silk matte finish.
Dr. McClane: "The perfect Retin-A crème for the individual who wants to add a retinol product to her regimen. The active ingredients blend to rejuvenate while leaving the skin looking beautiful."
Intensive Retinol 100 Emollient - $48
An intensive high potency anti-aging retinol crème that offers advanced revitalizing benefits for environmentally damaged, mature, dry or prematurely aging skin. Palmitoyl Tripeptide-3 (SYN®-COLL) 3% mimics skin's collagen production mechanism and combats visible signs of aging related to collagen depletion. Hyaluronic Acid immediately smoothes skin's appearance and increases long-term hydration. Retinol and retinyl palmitate aid in cellular regeneration and revitalize dull skin.
Dr. McClane: "A highly effective Retin-A product for the aging face. Rejuvenates the skin with minimal irritation to leave your skin looking younger and tighter."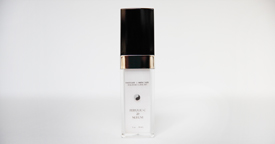 Ferulic-C 20 Serum - $54
Ferulic-C 20 Serum is an intensive anti-aging serum that offers excellent benefits for mature, environmentally damaged or aging skin. A highly stable formula of vitamin C polypeptide neutralizes free radicals and helps to even skin tone. Plant derived pseudo-collagen and hyaluronic acid to soften and hydrate dry skin. Ferulic acid increases the therapeutic benefits of Vitamins C and E - attacking free radicals and building collagen.
Dr. McClane: "This product contains some serious anti-aging components that repair and rebuild aging skin. Hyaluronic acid and collagen are both important components in healthy, youthful skin. This product is infused with those elements from a plant derived source."
SPF30+ Sheer Moisturizer - $34
This weightless, oil-free sunscreen provides sheer daily moisture while it helps prevent premature aging caused by sun exposure. Our bonding base formula interlocks with skin, feels light, and allows skin to sweat and breathe. An excellent daily hydrator and sunscreen all in one, great under makeup.
Dr McClane: "This is an excellent moisturizer for daily use for all skin types. Because it contains sunscreen with SPF30+, this simplifies your skin care regimen. Remember that sun screens should be applied at least 30 minutes prior to sun exposure"
Dermal Balancing Cleanser - $28
This gentle plant based cleanser removes impurities, such as oil, sunscreen and make-up which can contribute to blemishes or dull looking skin. This pore purifying cleanser eliminates surface contamination while encouraging balanced sebum production and improved skin condition.
Dr. McClane: "This is my favorite facial cleanser. It leaves my skin feeling refreshed and natural. It is not drying or irritating. After each use, my skin feels invigorated."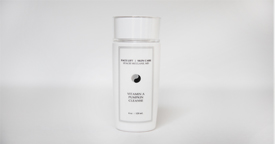 Vitamin A Pumpkin Cleanse - $30
This refreshing daily cleanser removes surface residue and protects against free radical damage. Pumpkin contains vitamin A and beta carotene, two potent anti-oxidant ingredients which help to fortify the cellular matrix. Pumpkin Cleanse provides important nutrition for the skin with surface-reducing lipids and essential oils. Antimicrobial clove and cinnamon lend a wonderfully appealing scent to this ultra-mild formula gentle enough for sensitive skin.
Dr. McClane: "My staff loves this cleanser. It is really fantastic that this cleanser is gentle and effective while providing nutrients and anti-oxidants at the same time."
Vita Pure Tonic - $26
A refreshing, hypo-allergenic, fragrance free hydrating tonic for normal to sensitive skin. Formulated with soothing Boswellia Serrata, Arnica, Calendula and Chamomile extracts which calm irritated or sensitized skin. Also contains Vitamins C & E for antioxidant protection.
Dr. McClane: "This toner is really fantastic for all skin types. It helps soothe irritated skin while leaving the skin feeling refreshed."
Alcohol-Free Makeup Remover - $26
This light, oil and alcohol free solution gently dissolves water resistant mascara easily and quickly. pH balanced and fragrance free, this mild formula sweeps away impurities without pulling or tugging delicate eye tissue or leaving sticky or oily residue.
Dr. McClane: "This is absolutely the best makeup remover I have ever used. This is fantastic around the eye area as well. It leaves my skin feeling clean and healthy without the dryness or oiliness that results from some cleansers.