About Dr. Stacie McClane
Dr. Stacie McClane is a board certified surgeon specializing in Facial Plastic and Reconstructive Surgery. She has extensive training in cosmetic and reconstructive facial procedures.
Locations
Chicago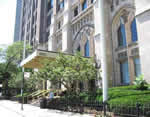 680 North Lake Shore Drive
Suite 1425
Chicago, IL 60611

Hoffman Estates
1555 Barrington Rd
Doctors Office Building Three
Suite 3400
Hoffman Estates, IL 60169

Tel: 312.867.9500
Fax: 312.674.7501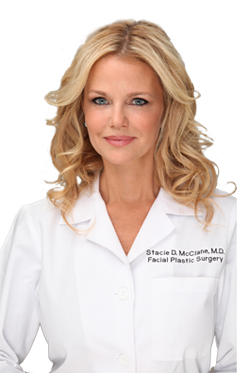 Dr. McClane's patients find her caring, straightforward, and compassionate. She spends time with her patients with consultation and video imaging to truly understand their goals. Please read some of our patient testimonials in the "Patient Testimonial Section."
Her philosophy is simple. She provides outstanding results. The following quote captures her spirit. "I want to create a natural look, to rejuvenate my patients' appearance, restoring their youthful image, and making them look as alive and active as they feel."
The following is Dr. McClane's curriculum vitae (resume). Please review this to learn more about her extensive training, honors, and publications.
download PDF version curriculum vitae
EDUCATION:

Facial Plastic and Reconstructive Surgery Fellow 2001-2002
American Academy of Facial Plastic and Reconstructive Surgery
Mangat-Kuy Plastic Surgery Centers
Devinder S. Mangat, M.D., F.A.C.S., Fellowship Director

Otolaryngology-Head and Neck Surgery Resident 1997-2001
University of Missouri Hospitals and Clinics

General Surgery Resident 1996-1997
University of Missouri Hospitals and Clinics

Doctor of Medicine, May 12,1996
University of Louisville School of Medicine

Bachelor of Arts, Magna Cum Laude , May 23,1992
Transylvania University , Lexington , KY

 
 
HONORS AND AWARDS:

1999 Resident Research Grant Recipient
American Academy of Facial Plastic and Reconstructive Surgery

Alpha Omega Alpha

 
 
CERTIFICATION:

American Board of Facial Plastic and Reconstructive Surgery
Board Certified

American Board of Otolaryngology-Head and Neck Surgery
Board Certified

Advanced Cardiac Life Support

Basic Life Support

 
 
ACTIVITIES :

Committee Member
Women in Facial Plastic Surgery
American Academy of Facial Plastic & Reconstructive Surgery

Residency Liaison
American Academy of Facial Plastic and Reconstructive Surgery

Clinical Instructor Assistant
Advanced Science Course in Head and Neck Anatomy, 1998

Mentor
American Medical Women's Association

Teaching Assistant
Suture Technique Course, 1996-2001

Secretary
University of Louisville School of Medicine Class of 1996, 1993-1996

Health Awareness Workshop Leader, 1993

Director
HOPE Clinic (Clinic for Homeless Families)

Volunteer
Multidisciplinary health care trip to rural Mexico

 
 

PROFESSIONAL SOCIETY MEMBERSHIPS:

American Academy of Facial Plastic and Reconstructive Surgery

American College of Surgeons

American Academy of Otolaryngology-Head and Neck Surgery

American Medical Association

Chicago Laryngological & Otological Society

 
 
RESEARCH:
McClane, Stacie, M.D.; Mangat, Devinder, M.D.; Yunker, Martha, C.R.N.A.
The Use of Perioperative Clonidine To Reduce Postoperative Facelift Hematomas.
Fellowship Research Project

McClane, Stacie, M.D.; Mangat, Devinder, M. D.
The Efficacy of Perioperative Antihypertensive Medication in Preventing Postoperative Hematoma Formation in Rhytidectomy Patients.

Oral Presentation. 8 th International Symposium of Facial Plastic and Reconstructive Surgery, New York , May 2002.

McClane, Stacie, M.D.; Renner, Gregory, M.D.
Enhancement of Auricular Composite Graft Survival with Hyperbaric Oxygen Treatment.

1999 American Academy of Facial Plastic and Reconstructive

Surgery Resident Research Award Grant

Oral Presentation. Combined Otolaryngological Spring Meetings, May 2000.

Archives of Facial Plastic Surgery , published May 2002.

McClane, Stacie, M.D.; Renner, Gregory, M.D.
The Efficacy of Hyperbaric Oxygen Therapy in Improving the Survival of Reattached Auricular Composite Grafts in the New Zealand White Rabbit

Oral Presentation. Annual Meeting, American Academy of

Otolaryngology Head and Neck Surgery, September 1999

Otolaryngology Head and Neck Surgery, published October 2000

Haro, Julian, M.D.; McClane, Stacie, M.D.
A Retrospective Comparison of Lumbar versus Thoracic Epidural Fentanyl/Bupivacaine Infusions in Three Different Surgical Procedures

Poster, American Pain Society Annual Scientific Meeting

Bumpous, Jeffrey, M.D.; McClane,. Stacie, MD
A Retrospective Analysis of Penetrating Injuries to the Laryngotracheal Complex

Ganzel, Toni, M.D.; McClane, Stacie, M.D.
A Retrospective Analysis of the Cost Implications of Evaluating Abnormal Preoperative Hematological Studies In Patients Undergoing Tonsillectomy and Adenoidectomy

 
 
CONTINUINING
MEDICAL
EDUCATION:
Aesthetic MD Conference
Mesotherapy and Lipodissolve Training
Scottsdale Arizona
November 17-18 2006

Rejuvenation of the Aging Face
San Diego , California
March 30 - April 4,2004

8th International Symposium of Facial Plastic
and Reconstructive Surgery
New York , New York May 1-5,2002

9th Annual Winter Symposium on the Latest
Advances in Facial Plastic Surgery
Vail, Colorado, March 10-14,2002

Combined Otolaryngologcial Spring Meetings
Palm Desert , California, Spring 2001

American Academy of Facial Plastic And
Reconstructive Surgery Spring Meeting
Orlando, Florida, May 12-15,2000

American Academy of Facial Plastic and Reconstructive Surgery, Fall Meeting
New Orleans, Louisiana, September 23-25,1999

Soft Tissue Technique Course
University of Kansas , Department of Otolaryngology
Kansas City, Kansas, 1998

Plating Course
Chicago, Illinois, 1998

 
 
HOSPITAL PRIVLIGES:

Lincoln Park Hospital
Chicago , Illinois

River North Center
Chicago , Illinois

Plastic Surgery Center
Chicago , Illinois

The Center for Facial Plastic Surgery
Barrington, Illinois

 
 
INTERESTS:
Jogging, Scuba Diving, Traveling, and Skiing